Okay, I'm interested. What else can Web QMS do for us?
Mireaux's Web QMS quality management systems software is mostly known for being an essential tool for meeting all requirements of the ISO 9001 standard. But when it comes to other standards, or other processes, such as in Sales or Operations, a quick look at the features and flexibility reveals a lot of additional power. And because some of our earliest adopters may not even be familiar with our newest applications, this article will provide some insight into this functionality. We've included some common (and uncommon) uses of Web QMS and how it can meet the requirements of not just ISO 9001 but also of ISO 14001, OHSAS 18001, API Spec Q1, API Spec Q2 and more.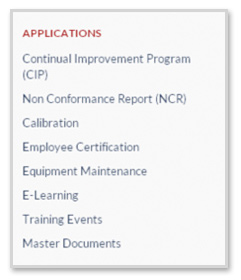 Our Applications
Web QMS started as a platform for maintaining documentation. Since then, we have steadily added applications with the aim of meeting the strong demands of our clients seeking certification. Currently, Web QMS offers 8 robust applications all designed to add value to our clients' management systems. You can learn more about each of them and their features at by clicking here.
Online Customer Satisfaction Survey
While most people use a regular paper survey for customer satisfaction, there are a few that use online solutions like Survey Monkey. With Web QMS, you have the ability to construct anonymous online surveys and send them to your customers to obtain their valuable responses in real time. Once responses are submitted, a chart is automatically built for your review, helping you sort through the data in an actionable way.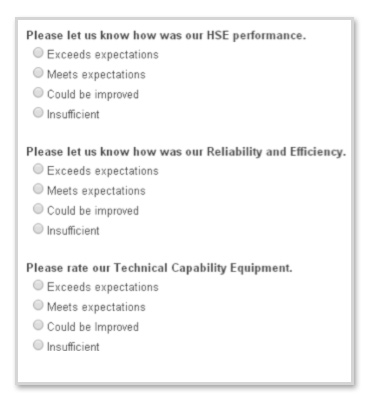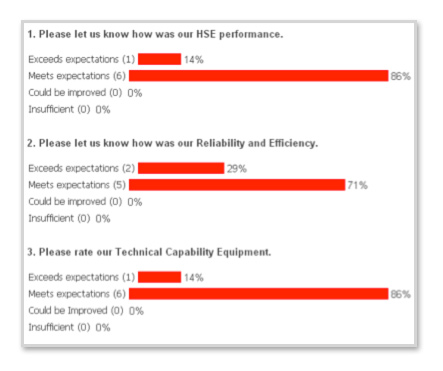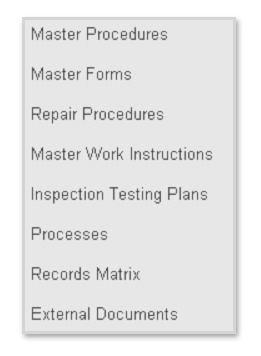 More than Procedures and Forms
The Document Control section of Web QMS can be set up to handle more than just procedures, work instructions, and forms. Other documents that some of our clients are able to track include:
Inspection and Test procedures (ITPs)
Methods
Drawings
Manuals
Specifications
Job Safety Analysis (JSAs)
External Documents
…and more
They all could be in the same repository but display differently as needed.
Two Document Applications
Did you know that Mireaux has two types of documentation applications, a simple one that acts almost like a register; and a more advanced one that provides approval capabilities, version control, keyword tagging, multiple category assignment, log history capabilities, etc. etc.?



Customer-Owned Property
Based on ISO as well as API Specification Q1 and Q2, you need to maintain proper control of customer property, though API goes as far as requiring a procedure and making this whole process more formal. For this reason, Web QMS can accommodate a list to keep track of your customer property along with any parameters you may need to ensure you can provide evidence that you maintain the items appropriately.
Management of Change (MOC), Risk Assessment and Contingency Planning
For clients seeking API Spec Q1 or Q2 certification, MOC, Risk Assessment, and Contingency Planning are of primary importance. Currently, MOC has been added as source under the CIP application and an area under Operations has been created to display MOCs, Risk Assessments, and Contingency Plans. The MOC CIP allows for all aspects of a good MOC to be conducted in the same place where our clients are already used to tracking their opportunity for improvements: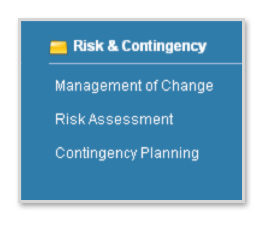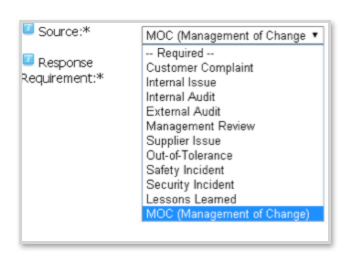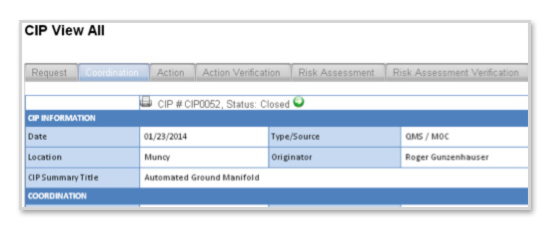 CRM
Can Sales be included on Web QMS?
By all means, Sales is actually a core activity on Web QMS for some clients. Mireaux has been using a CRM application integrated within Web QMS. All Sales related activity, from the first call to the visit, to the proposal and the deal won are tracked in this area. Not only does it provide a great way for everybody to know who the primary contacts are, but it also forces Salespeople to log in to Web QMS. It's a win-win situation…what else could you ask for?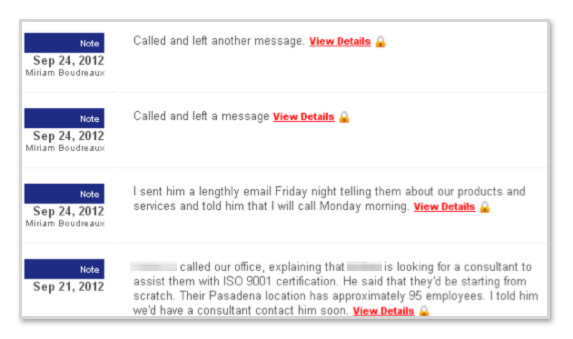 Proposals Logs
We have a client who was keeping various spreadsheets for tracking proposals. In fact, each sales person was keeping their own. We were able to quickly migrate this to their Web QMS Sales area and within a few hours, they all had visibility over the same information and the capability to update their own records.
Job Log
Another client was also keeping a spreadsheet for tracking jobs and had to constantly give the same information to Sales and Operations employees. We were able to move everything into Web QMS making the information available to everyone. Now nobody has to call the office for information – everyone is empowered!
Two Ways to Keep Up with Project Action Items
Many of our clients who provide services have to keep multiple action items per clients. The CIP provides the ability to track Action items and not just Corrective or Preventive Actions. The CIP provides the built-in workflow, where action items can be assigned, verified and validated by different people before closure. For those clients who want a register without the need for a workflow, we have also designed a solution to help simplify their work.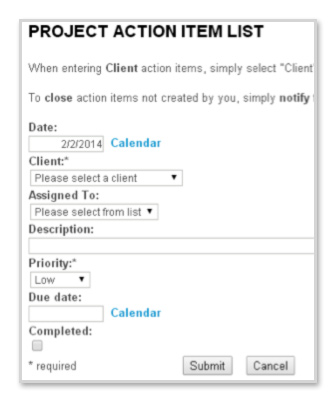 Project Lessons Learned
Another feature that some of our Engineering clients use the CIP for is to keep track of their Project Lessons Learned. By adding a new source and strategic fields, Project Managers are able to organize, enter, follow up and ultimately learn from their project mishaps. It's a smart way to turn all business intelligence, especially errors, into an asset.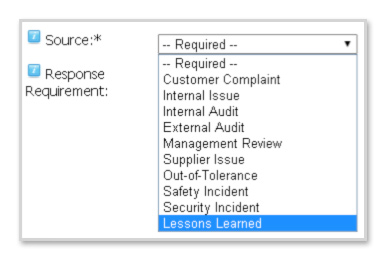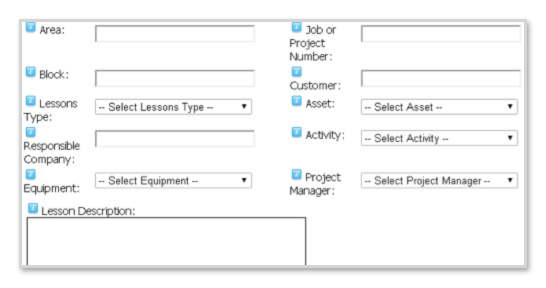 Workplace Calendar
We have implemented a calendar for several clients where employees can keep track, subscribe to and get reminders for various company functions. In our own company, we keep track of our auditing calendar, birthdays, pay periods and much more.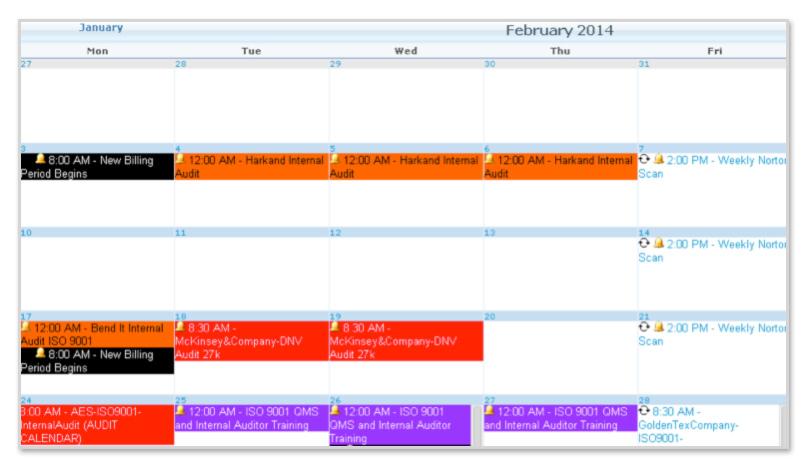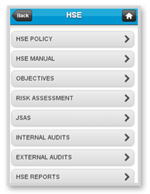 HSE is on Web QMS too!
Most of our Web QMS applications fulfill the requirements of ISO 14001 and OHSAS 18001, however, those clients with HSE management systems have a place to put information specific to an HSE program. This helps them keep the appropriate in one place, just as Quality has its own area. Here is a view from a mobile device:
Bulk Email
So you want to send emails to all your employees in a personalized way. You can use the Bulk Email feature of Web QMS and reach your users by role or by job title, ensuring that everyone sees the email. Mail merge functions allow email messages to be personalized, and a built-in what-you-see-is-what-you-get (WYSIWYG) editor make it possible format messages.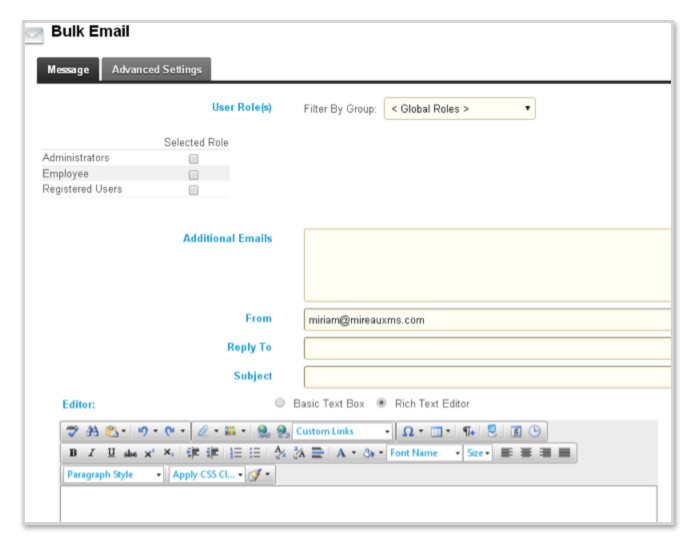 Training Plan by Job Title
Although many clients have our E-learning application, those seeking API certification have been very active in ensuring that all their training, including procedures and work instructions, are added there. By doing this, they have pretty much transferred their lengthy training spreadsheet online and removed the manual upkeep. Once the courses and tests are setups, the system will take care of emailing employees about any upcoming required training and for maintaining their training records once they pass their tests.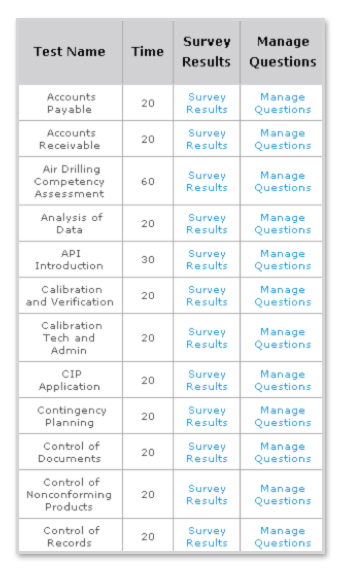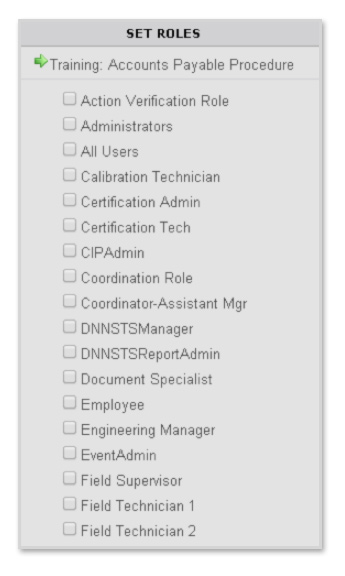 Vessel Certifications
We know that our Employee Certification application handles certifications for employees. This is specifically useful for our clients who have employees working offshore. But did you know that this application is extremely useful to track vessel certification, vessel audits and more? For our clients with assets such as barges and boats, this is a lifesaver since they have no way to keep track of those documents in an organized manner. With this application, they no longer have to keep track of vessel paperwork, the system will keep track for them and notify them as well as the Vessel Captain of any upcoming certification deadlines.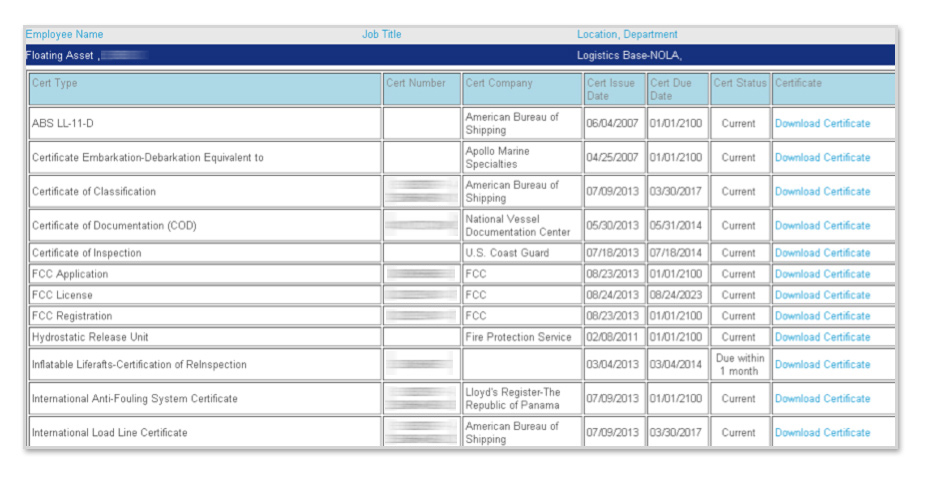 Equipment Usage
Our Maintenance application is known for keeping up with preventive maintenance and work order driven repairs. However, what you may not know is that this application can also track equipment usage (in hours or mileage) as well as for check-in and check-out activities.