Welcome to Web QMS software
Web QMS is a cloud-based software designed to help your organization achieve, maintain, and improve your ISO or API based certifications, while giving your employees tangible access to your management system anytime, anywhere.
Whether you have a Quality, Environmental, OH&S, or Information Security Management System -or an Integrated Management System- our team will help you configure your Web QMS to ensure that all requirements for the standards you comply with (i.e. ISO 9001, ISO 14001, ISO 45001, ISO 27001, etc.) can be found in your Web QMS.
And to make sure that you hit the ground running, deployment of your Web QMS always includes migration, so that our team of experts can help you bring all your information in the most optimal way.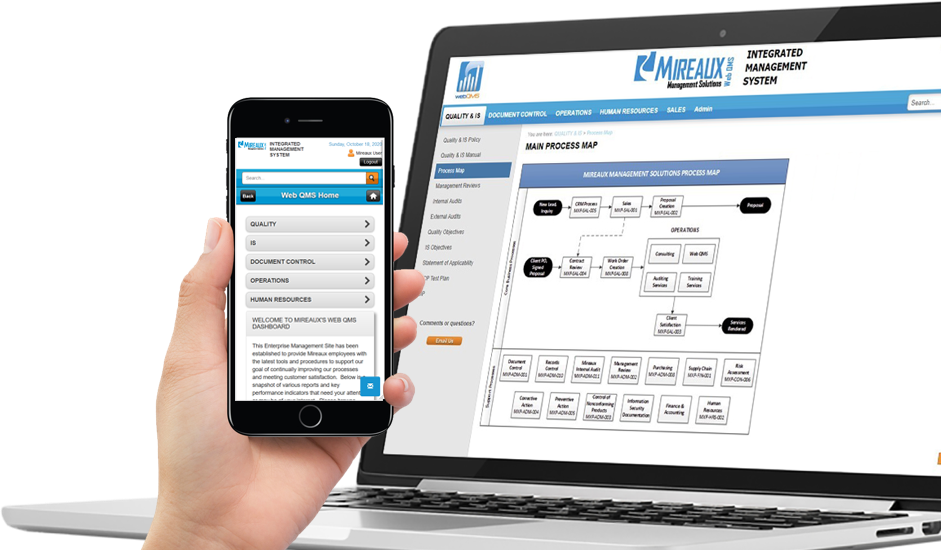 Why choose Web QMS?
There are a lot of management systems software out there. Here's why Web QMS stands out from the rest.
Ensure Compliance
Satisfy various ISO and API management system requirements
Configure to meet on ISO or API standard or multiple standards
Maintain separate management systems or integrate
Visual analysis of data
Real time KPIs available for all apps
Search, filter, and quick reports are readily available
Export to excel for in-depth analysis
Stay in-the-know
Receive notifications when tasks are assigned
Trigger reminders for overdue tasks
Setup escalation to promote accountability
Availability
Available anytime, anywhere, 24×7
Unlimited access from multiple devices
Ensure proper access using Role-based permissions
Supported Browsers and Operating Systems
Desktop (Mac and Windows):

Mobile (Android and iOS):

Don't take our word for it, see what our customers are saying