ISO & API Turnkey Consulting, Auditing, Training, Web QMS software and Managed Services
Mireaux Management Solutions, established in Houston, TX since 2001, provides Turnkey Consulting, Auditing, Training, Web QMS software and Managed Services in various ISO and API management system standards.
Mireaux has been certified to ISO 9001 since 2012 and to ISO 27001 since 2014 by DNV Assurance. Mireaux-owned training courses are certified under Exemplar Global's Recognized Training Provider status. Mireaux is also an API-U Training Provider and all API-U-owned courses are certified by IACET.
If you need assistance with any ISO or API management system standard, look no further than Mireaux – a company with a long history of success, serving organizations in the US and abroad.
Mireaux Upcoming Training Courses
Available via LIVE STREAM
| CERTIFIED BY | COURSE NAME | # DAYS | DATES | CEUs | REGISTER | REGULAR PRICE (USD) |
| --- | --- | --- | --- | --- | --- | --- |
*With applicable Early Bird or Buddy Discounts
DUE TO THE SEVERE ICE STORM IN HOUSTON, TEXAS; OUR TRAINING CENTER IS TEMPORARILY CLOSED. TRAINING CLASSES WILL BE CONDUCTED VIA LIVE STREAM WHILE WE UNDERGO REPAIRS.
Web QMS Software
Cloud-based, secure and powerful, our Web QMS software helps you achieve, maintain, and improve your ISO and API certifications, allowing your employees full access and visibility to your management system – anytime, anywhere.
Approved Supplier List -> Supplier Corrective Actions
Asset Register
Behavioral Base Safety (BBS)
Business Continuity Plan (BCP)
Calibration -> Out-of-Tolerance Conditions
Communication Plan
Conformity Matrix
Contingency Planning
Corrective Action
Critical Processes
Critical Services and SRP
Customer Complaints
Customer Property
Customer Satisfaction
E-Learning
Emergency Contacts
Emergency Preparedness
Employee Certifications
Employee Handbook
Equipment Maintenance
External Audits -> External Audit Findings
External Documents
Glossary
HSE Manual
HSE Policy
Information Security Incidents
Internal Audits -> Internal Audit Findings
Inventory Control
ISMS Manual
ISMS Policy
Job Descriptions
Job Safety Analysis (JSA)
Lessons Learned
List of Legal Requirements
Main Process Map
Management of Change (MOC)
Management Reviews -> Management Review Action Items
Monitoring and Measuring
Nonconformance Report (NCR)
Objectives
Organizational Charts
Preventive Action
Procedures, Work Instructions & Forms
Product Quality Plans
Quality Manual
Quality Policy
Records Retention
Risk Assessment -> Significant Risks
Safety Incidents
Service Quality Plan
Short Service Employee (SSE)
Special Interest Groups
Statement of Applicability
Training Events
Training Plan
Mireaux News
2024 Public Training Announcement
Mireaux is excited to announce that our 2024 Public Training Calendar has been published! We are anticipating another great year of providing you with our top-of-the-line […]
Read More
Published: November 6, 2023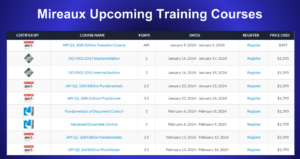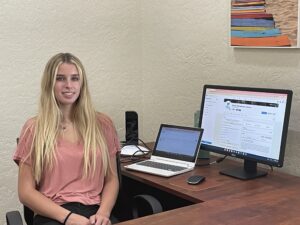 Let's Get Started!
Send us a request to learn how Mireaux can help you achieve or sustain your ISO or API management system certifications
Join Our Successful Clients Worldwide