ISO 9001:2015 Consulting
Mireaux provides Certification Consulting assistance to organizations seeking implementation of a Quality Management System based on the ISO 9001 standard.
By considering ISO 9001 certification, your organization is demonstrating an interest in achieving more than just the minimum customer requirements. This is a commitment towards quality improvement, greater operational efficiency, increased profitability, and a purposeful customer focus.
Call Mireaux today at 713-589-4680 to discuss proven, custom-tailored ISO 9001 consulting services for your business.
About ISO 9001
The ISO 9001 standard outlines requirements for organizations to establish, implement, maintain, and improve a Quality Management System. With over a million organizations certified to ISO 9001 worldwide, the ISO 9001 standard is the largest of all ISO standards in terms of number of certificates issued, and has become the international indicator for quality and consistency.
Using a process-based approach, the ISO 9001 standard lays out tools for companies to assess, and improve their day-to-day processes that make them run. Conforming to the ISO 9001 standard can help organizations ensure that everything that reaches its customers meets their requirements and has the levels of quality desired.
Auditing Capabilities
Mireaux Management Solutions has extensive experience conducting various types of audits against the ISO 9001 standard, including the following:
Mireaux can help you implement an audit program that is suitable to your organization and that can be carried out effectively and consistently.
Web QMS Software
Cloud-based, secure and powerful, our Web QMS software helps you achieve, maintain, and improve your ISO 9001:2015 certification, allowing your employees full access and visibility to your management system – anytime, anywhere.
Approved Supplier List -> Supplier Corrective Actions
Asset Register
Behavioral Base Safety (BBS)
Business Continuity Plan (BCP)
Calibration -> Out-of-Tolerance Conditions
Communication Plan
Conformity Matrix
Contingency Planning
Corrective Action
Critical Processes
Critical Services and SRP
Customer Complaints
Customer Property
Customer Satisfaction
E-Learning
Emergency Contacts
Emergency Preparedness
Employee Certifications
Employee Handbook
Equipment Maintenance
External Audits -> External Audit Findings
External Documents
Glossary
HSE Manual
HSE Policy
Information Security Incidents
Internal Audits -> Internal Audit Findings
Inventory Control
ISMS Manual
ISMS Policy
Job Descriptions
Job Safety Analysis (JSA)
Lessons Learned
List of Legal Requirements
Main Process Map
Management of Change (MOC)
Management Reviews -> Management Review Action Items
Monitoring and Measuring
Nonconformance Report (NCR)
Objectives
Organizational Charts
Preventive Action
Procedures, Work Instructions & Forms
Product Quality Plans
Quality Manual
Quality Policy
Records Retention
Risk Assessment -> Significant Risks
Safety Incidents
Service Quality Plan
Short Service Employee (SSE)
Special Interest Groups
Statement of Applicability
Training Events
Training Plan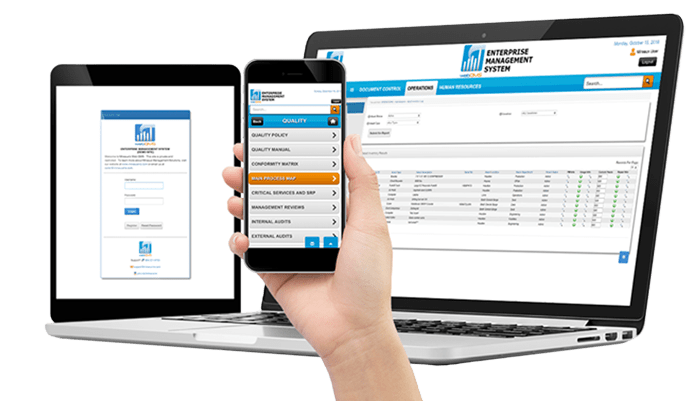 Frequently Asked Questions