API Specification Q1 Consulting
Mireaux's API Q1 Consulting services are designed to help you establish a robust Quality Management System that can meet the stringent requirements of API Specification Q1.
Compared to the ISO 9001:2015 standard, API Q1 offers no compromise. Every requirement is clearly laid out to ensure that your Quality Management System is the best in class. If you are considering adopting API Q1, you are demonstrating a desire to supply the oil and gas industry with the highest quality manufactured products as well as having a management team who believes that quality processes add value and ensure long-term success.
Our API Q1 Certification Consulting services prime your organization for achieving every one of the API Q1 requirements.
To learn more about API Q1 Consulting services, as well as our API Q1 training and other services,  please call Mireaux today at 713-589-4680.
About API Specification Q1
The American Petroleum Institute (API) is an organization that promotes oil and petroleum in the United States. They have published and maintain more than 600 product specifications, as well as API Specification Q1 and API Q2.  API Q1 has been developed to address Quality Management Systems for organizations that manufacture products or provide manufacturing-related services under a product specification for use in the petroleum and natural gas industry.
The goal of this specification is to outline the minimum requirements for the development of a Quality Management System that provides for continual improvement, emphasizes defect prevention, and strives to minimize variation and waste from manufacturing organizations. It is designed to promote reliability in the manufacturing sector of the petroleum and natural gas industry.
Mireaux has helped many clients achieve API Q1 certification through our proven API Q1 consulting. Furthermore we support organizations with expert-led API Q1 training, auditing, managed services and Web QMS software.
Training Offerings
This 3-day API Q1 Implementation training course provides a deep look into the API Q1 9th Edition Addendum 2 Specification for Quality Management System Requirements for Manufacturing Organizations for the Petroleum and Natural Gas Industries. Learn more about this course.
TRAINING CLASSES WILL BE CONDUCTED VIA LIVE STREAM.
AVAILABLE VIA LIVE STREAM
Sep 28 - Sep 30




8:30 am - 4:30 pm
September 28, 2021 - September 30, 2021




8:30 am - 4:30 pm
This 4-day API Q1 Internal Auditor Training course provides attendees with a firm understanding of API Q1 2nd Addendum, along with internal auditing techniques detailing how to prepare, plan, and executes Internal Audits. Learn more about this course.
TRAINING CLASSES WILL BE CONDUCTED VIA LIVE STREAM.
AVAILABLE VIA LIVE STREAM
Sep - Oct




8:30 am - 4:30 pm
Sep 28 - Oct 1




8:30 am - 4:30 pm
September 28, 2021 - October 1, 2021




8:30 am - 4:30 pm
Auditing Capabilities
Mireaux Management Solutions has extensive experience conducting various types of audits against API Spec Q1, including the following:
Mireaux can help you implement an audit program that is suitable to your organization and that can be carried out effectively and consistently.
Web QMS Software
Cloud-based, secure and powerful, our Web QMS software helps you achieve, maintain, and improve your API Specification Q1 certification, allowing your employees full access and visibility to your management system – anytime, anywhere.
Approved Supplier List -> Supplier Corrective Actions
Asset Register
Behavioral Base Safety (BBS)
Business Continuity Plan (BCP)
Calibration -> Out-of-Tolerance Conditions
Communication Plan
Conformity Matrix
Contingency Planning
Corrective Action
Critical Processes
Critical Services and SRP
Customer Complaints
Customer Property
Customer Satisfaction
E-Learning
Emergency Contacts
Emergency Preparedness
Employee Certifications
Employee Handbook
Equipment Maintenance
External Audits -> External Audit Findings
External Documents
Glossary
HSE Manual
HSE Policy
Information Security Incidents
Internal Audits -> Internal Audit Findings
Inventory Control
ISMS Manual
ISMS Policy
Job Descriptions
Job Safety Analysis (JSA)
Lessons Learned
List of Legal Requirements
Main Process Map
Management of Change (MOC)
Management Reviews -> Management Review Action Items
Monitoring and Measuring
Nonconformance Report (NCR)
Objectives
Organizational Charts
Preventive Action
Procedures, Work Instructions & Forms
Product Quality Plans
Quality Manual
Quality Policy
Records Retention
Risk Assessment -> Significant Risks
Safety Incidents
Service Quality Plan
Short Service Employee (SSE)
Special Interest Groups
Statement of Applicability
Training Events
Training Plan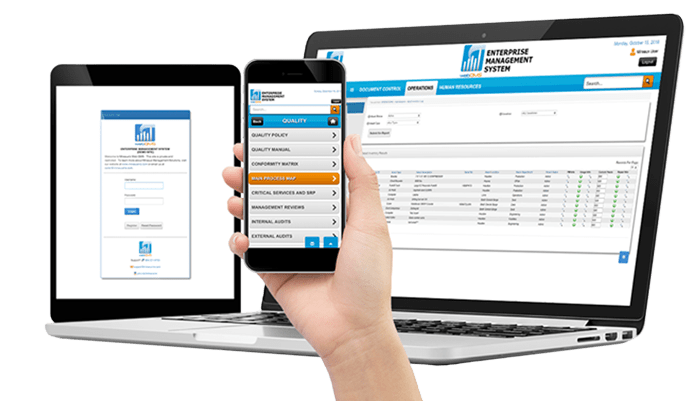 Frequently Asked Questions