Employee Certifications
The Employee Certification Application is an online solution designed exclusively to keep track of certifications certain employees are required to maintain in order to perform their jobs.
For example, in the Offshore industry employees are required to maintain certifications such as Offshore Water Survival, TWIC card, Safe Gulf, and many many more.
Likewise in the Diving industry, Divers are required to maintain ADC Card, Dive Helmet, First Aid, etc., sometimes upwards of 20 certifications per Diver depending on their job position. The Employee Certification Application in Web QMS makes the upkeep of these certifications an easy task by first ensuring that certification types and their respective intervals are entered accurately on the system. Once certification types are entered, each employee member of the Web QMS can store their certificates electronically and keep a history for each cert type as needed or as required by federal or regulatory agencies.
The Employee Certification Application is not just a repository of certs, is also a great assistant, as E-mail reminders are sent weekly or as needed to Managers as well as individual employees reminding them of expired or soon-to-expired certifications with the aim of minimizing out-of-compliance status.
The Employee Certification Application includes the following features:
Certification intervals can be set in months.
Managers received weekly reminders with list of certifications per timeframe, to minimize risk of sending employees to work when certs are set to expired in the middle of their assignment. Timeframes are as follows:

Expired
Coming due in the next 7 days
Coming due from 1 week to 1 month
Coming due from 1 month to 2 months

Employees receive their own e-mail reminders regarding specific certifications that are expired or about to expired.
Cost basis can be established for each certification but can be adjusted when uploading a specific cert based on the actual cert costs, which may include cost of training.
---
Benefits of the WEB QMS' Employee Certification Application
Add certification type according to your company's need, such as DMT, ADC Card Diver, QMS Auditor, TWIC, Forklift Driver, etc.
Ability to locate employee certification quickly through the Advanced Search feature.
Keep all employee certification information electronically.
Upload certificates securely to the application.
No Programming necessary, all features and functions can be accessed from the application interface.
Maximum flexibility to manage employee certification by accessing the certificates anytime, anywhere.
Flexible reminder, send emails to management regarding employee certification that are past due or coming due.
Targeted reminders directly to employees regarding their expired or upcoming certification renewal.
---
Highlight of Features
---
The following are some examples from real cases to give you a better understanding of how this application works.
1. The employee certificates can be saved and tracked using the Employee Certification Application.


2. The expired certificates and coming due certificates are listed on the dashboard.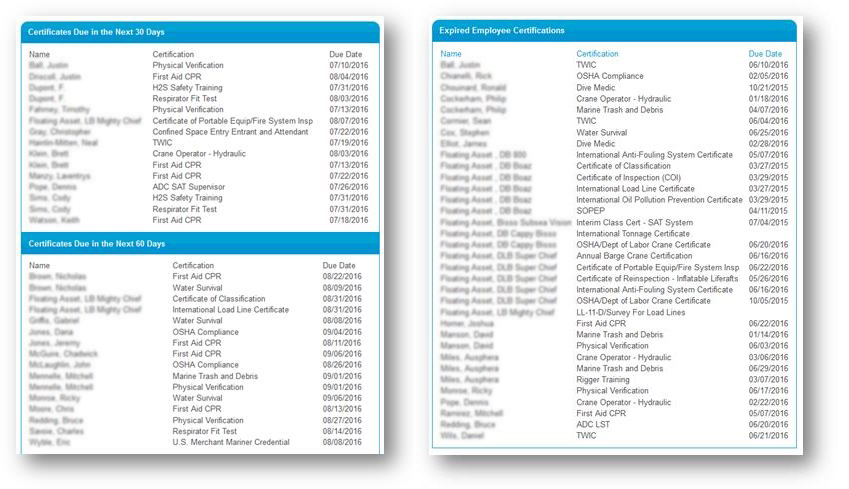 3. Individual employees and the Global Certification Admin will get an email notification for any past due and coming due certificates on a weekly basis.